This is so cool!   For the first time I ordered coupons online thanks to www.TheQHunter.com!
It was super easy to do.  I even ordered whole inserts from 1/24/10.  I spent $5.82 and got the following coupons: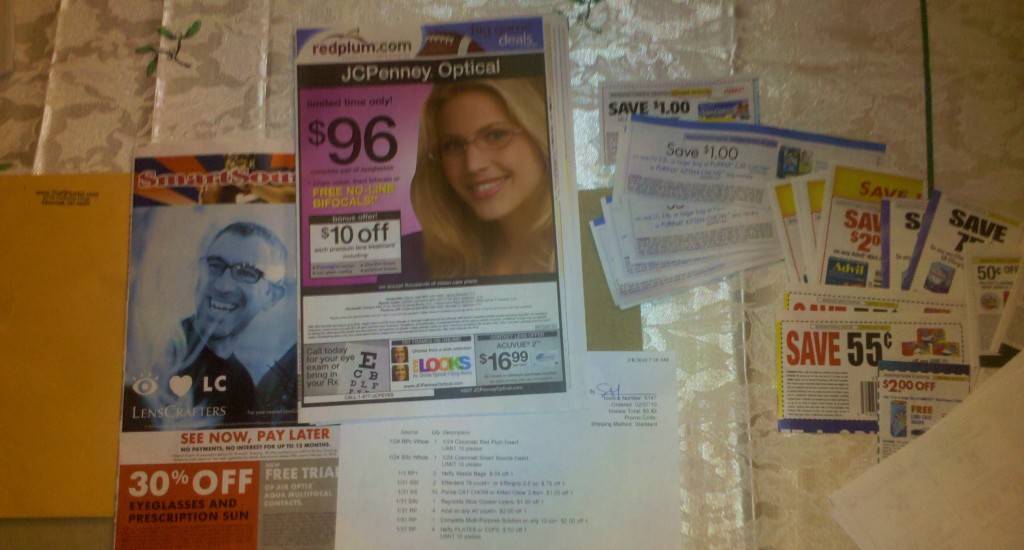 1 1/24 Cincinnati Red Plum Insert LIMIT 10 please
@ $0.55 = $0.55
1 1/24 Cincinnati Smart Source Insert LIMIT 10 pleas
@ $0.90 = $0.90
2 Hefty Waste Bags: $.55 off 1
@ $0.08 = $0.16
2 Efferdent 78 count+, or Effergrip 2.5 oz: $.75 off 1
@ $0.08 = $0.16
10 Purina CAT CHOW or Kitten Chow 3 lbs+: $1.00 off 1
@ $0.10 = $1.00  (I hope to find a deal for these or buy them at Walmart)
1 Reynolds Slow Cooker Liners: $1.00 off 1
@ $0.10 = $0.10
4 Advil on any 40 count+: $2.00 off 1
@ $0.20 = $0.80
1 Complete Multi-Purpose Solution on any 12 oz+: $2.00 off 1
@ $0.15 = $0.15
4 Hefty PLATES or CUPS: $.50 off 1 LIMIT 10 please
@ $0.10 = $0.40
Sub-Total: $4.22
Shipping: $1.60 (Standard)
I ordered the coupons on 2/7/10 and got them today, 2/12/10, which isn't bad since we have had so much snow that our mail has been delayed for a couple days!
Cindy Wolford is the owner of www.TheQHunter.com here is a little background about her and her site.
I first discovered stockpiling in the Fall of 2008 and have been hooked ever since!  I've been selling on eBay for about 7 years, but focused on coupons only since last Fall.  Because I want to provide the coupons you need at the lowest possible price, I decided to offer my services in this format that costs me fewer fees (and fewer fees for me = lower costs for you!).


It's my wish to provide you with the highest quality service and value, and that means accuracy and speed.  It's important that you get your coupons fast to use them for this week's sale.  Do I make mistakes?  Of course I do.  Are they rare?  You bet – and when it does happen, I more than make it up to you.  Please remember this: I want you to succeed at saving money while shopping, and I firmly believe that stockpiling is the best way to achieve that.  I want you to be completely happy with my service and come back – often!

In order to provide as close to 100% satisfaction as possible, I have chosen to limit the inventory I carry and the number of customers I can adequately serve.  Again, keeping you happy is my #1 priority!
Click on the link to order coupons today!

Note: I am an affiliate.